April 7–11, 2023
|

Athens, greece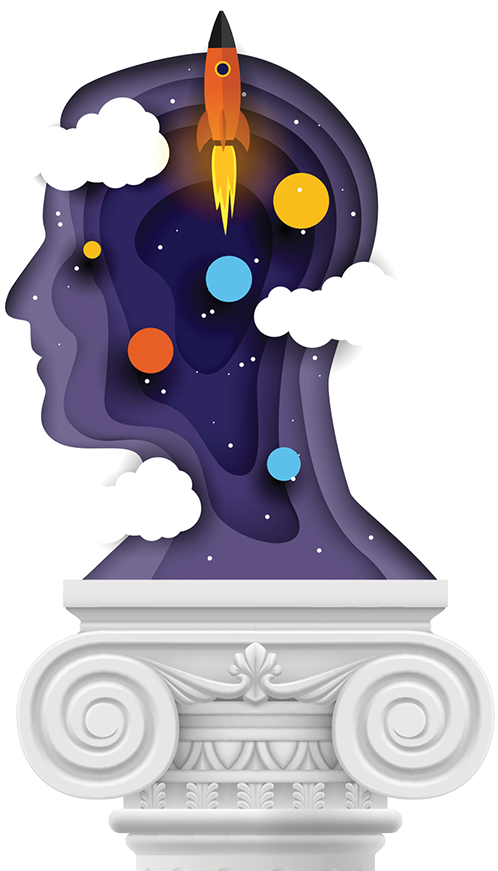 AynRandCon is an annual conference where the best young minds come together to explore Ayn Rand's ideas.
Whether you've just finished The Fountainhead or Atlas Shrugged or torn through Rand's fiction and nonfiction, AynRandCon is the best place to deepen your understanding of the challenging and inspiring ideas embodied by Rand's heroes — ideas like the supremacy of reason, the virtue of selfishness, the meaning of freedom, and the morality of capitalism.
Whether you're a student new to Ayn Rand's ideas coming to explore them deeply for the first time, or a long-time Ayn Rand fan looking to make new integrations and to meet up with others interested in Objectivism, this year's conference in Athens, Greece, has something for you. And given its location in the very city where Plato and Aristotle lived and taught, we will also be exploring the connections between Rand's ideas and Ancient Greek philosophy.
Learn about "The Literary Esthetics of Aristotle and Ayn Rand" from Robert Mayhew, an expert on Rand and on Aristotle and author or editor of nine books on ancient philosophy. Hear Greg Salmieri, co-editor of the forthcoming Aristotle and Ayn Rand, speak on Aristotle's ethics and Rand's ethics — most likely within sight of Aristotle's Lyceum (pending approval by the Greek archeological authorities).
Because this location is uniquely meaningful, we've expanded the conference to three days. You also have the option to turn your conference into a spirit-revitalizing retreat by adding three special tours, which include a sunset tour of The Temple of Poseidon — an incredible way to continue the discussion of ideas begun at the conference and celebrate new and long-time friendships.
"When I attend AynRandCon, I'm reminded that the world I dream of is within reach."
"The most philosophically influential weekend of my life."
"AynRandCon is an oasis in a desert of ideas."
"Last year's conference was so satisfying that this year I decided to bring a friend with me—great decision!"
"I met so many active-minded people at AynRandCon."
"The fire in me has been refueled. It will not be an easy task for anyone to extinguish it."
Dr. Onkar Ghate
Chief Philosophy Officer,
Ayn Rand Institute
Dr. Ghate has spent two decades leading ARI's efforts to educate students in Ayn Rand's philosophy.
Dr. Robert Mayhew
Professor of Philosophy,
Seton Hall University
Dr. Mayhew is the author or editor of nine books in his area of specialization, ancient philosophy (for instance, his recent Aristotle's Lost "Homeric Problems"), and author or editor of ten books related to Ayn Rand and Objectivism.
Dr. Gregory Salmieri
Senior Scholar of Philosophy,
Salem Center
Dr. Salmieri is the co-editor of A Companion to Ayn Rand (2016), Foundations of a Free Society (2019), and Aristotle and Ayn Rand (forthcoming). He has published and lectured on many aspects of Objectivism and on Aristotle's ethics and epistemology.
Dr. Tara Smith
Professor of Philosophy,
University of Texas at Austin
Dr. Smith is a professor of philosophy who has written and lectured extensively on Ayn Rand's ethics and the political and legal implications of her philosophy.
Dr. Nikos Sotirakopoulos
Director,Ayn Rand Institute Europe
Dr. Sotirakopoulos is a social scientist who helps students understand the history of today's most influential political ideas, such as Critical Race Theory.
Tal Tsfany
CEO, Ayn Rand Institute
Mr. Tsfany, a former entrepreneur, oversees all of ARI's activities and helps people use Ayn Rand's philosophy to achieve success and happiness.
Leof. Vasilissis Olgas, Athens 105 57
The Zappeion Megaron is one of Athens' most historic and iconic buildings. The event space is next to the National Garden of Athens and within walking distance of the Acropolis and Aristotle's Lyceum. The Syntagma Metro Station and Syntagma Tram Station are within a 5-minute walk, and several bus lines also serve the area.
3 Tours Plus Farewell Dinner
From the Zappeion in Athens, we'll travel by air-conditioned coach down the beautiful south coast of Attica to Cape Sounion, the southernmost tip of the Attic peninsula. Here, we'll watch the sun set in view of the ruins of the Temple of Poseidon, a temple built from 444 to 440 BC on the ruins of a previous Archaic temple. 
Your excursions ticket includes this tour as well as two other tours (details forthcoming), plus an elegant farewell dinner. 
This classic, family-run hotel is a 10-minute walk from the conference venue, the Zappeion, in the National Garden. Centrally located under the Acropolis and recently renovated, the Royal Olympic is decorated in opulent style with incredible views of Athens from the rooftop restaurant. Special conference room rates will be available for attendees.
Group rates for AynRandCon-Europe 2023 start at €130, including breakfast and most taxes.
Rooms are available April 4–13, 2023. Please note that the hotel system allows you to book only one room at a time. The room block closes on March 5, 2023.
If you'd like to explore other lodging options, we recommend the following, all within 10—15 minutes' walking distance from the Zappeion:
Your generous sponsorship finances travel scholarships to AynRandCon for promising students of Ayn Rand's philosophy. Simply start your registration and add sponsorships when prompted.
Conference Only
Excursions Only
Get Both and Save!
Conference Only
April 7–10, 2023

Ticket to 3-day conference. Opening reception on Friday, all talks and panels at the Zappeion, including special sessions at offsite locations (pending approval from the Greek archeological authorities), and Saturday and Sunday lunches.
*Age 25 and under on April 5, 2023
Excursions Only
Get Both and Save!
Still deciding? Get updates here: